3D GUI for industrial robots!!!

Download OpenGL 3D Robot graphical interface demo for manipulator path calculation,visualisation and control.
Versions for your robotic manipulator!
3D graphical interface for industrial robot manipulators (Mitsubishi PA-10) and hobby robotics (Lynxmotion and similar) with microcontroller servo controler (PIC ,Atmel).
E-mail for info



Robotic arm control software

3D OpenGL graphical interface software for your servo actuation manipulator , together with programmed servo controller for up to 8 servos (6 axes manipulator) with trajectoy generation and recording, inverse kinematics and real-time visualisation. Compatible with Futaba or GeFanuc servo motors,Lynxmotion or Kuka and Mitsubishi industrial manipulators. Ask for quotation!


Meditronic D.O.O.

Lukacka 7
Travnik 72270
Bosna i Hercegovina
+387 61 426 918
Projektovanje,prodaja,usluge i inžinjering u automatizaciji i industrijskoj elektronici:






Automatizacija proizvodnih procesa
Automatizacija i modernizacija strojeva
Automatizacija industrijskih peci
Regulacija i automatizacija motornih pogona
Automatizacija sistema napajanja energijom
CNC i CAM software
Telemetrijski,Scada,HMI i mjerni sistemi
Servis industrijske i medicinske elektronike
Vizualizacija procesa
Proizvodnja specijalnih strojeva


Kompanija za inžinjering i usluge u industrijskoj automatizaciji i elektronici.

Vrhunski inzinjerski tim sa iskustvom iz industrije nafte i celika za vrhunska industrijska rješenja.




Automation and electronics engineering company consisting of expert engineers and electricians from oil and gas and steel industries:


Process control
Industrial automation
Embedded systems
Power electronics
Software engineering
CNC Retrofit
CAM software
PLC,HMI & SCADA Systems
Comissioning and start-up
Special machinery production & assembly
Sales & distribution
Contract services




-Bosnia and Hercegovina
Sarajevo
Banjaluka
Mostar

-Croatia
-Serbia and Montenegro
-Russia
-Kazahstan
-Central & Eastern Europe
-North Africa
-Middle East


Siemens Simatic S7 & PCS7
Allen Bradley
GE Fanuc CNC & PLC
Wonderware InTouch
Allen Bradley RsView
Siemens WinCC
National Instruments LabView & Lookout



Contact



Info



Search:













OpenGL 3D GUI for robotic manipulator.Ethernet connection with Robot server option.Prototype manipulator was 3 link planar type (like hobby Lynxmotion) with Futaba and Hitec servos controlled by microcontroller.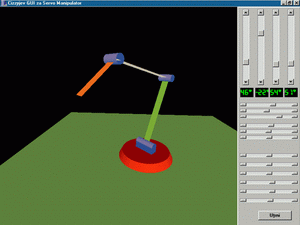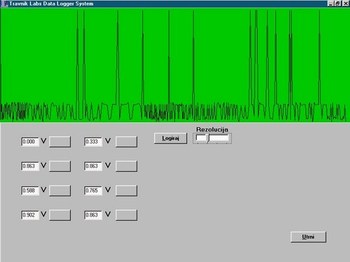 Data acquisition software for 68HC11 data logger. Spectral analysis,database logging options.I used it to collect data for Matlab System Identification Toolbox.Can be quite useful if you use it over RS485 or Ethernet.You can download .S19 and .exe.
Download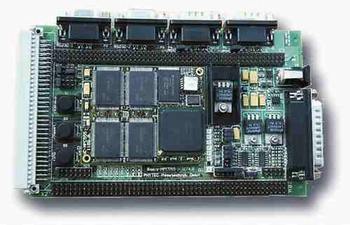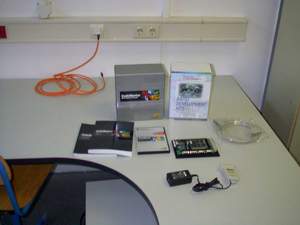 Project with CodeWarrior & Phytec 555 board is in progress in laboratory for robotics and autonomous systems of ETF(Elektrotehnicki fakultet in Sarajevo).We are doing research in motion control,embedded systems and behaviour based software agents in robotics
We have Metrowerks CodeWarrior,Phytec 555 board,BDM Wiggler, TI 320C7611 SDK development board , DSpace for Matlab,National Instruments PCI boards for Labview HP 54620C Logic analyzer and Hitachi VC7504 Digital oscilloscope. Research equipment for embedded systems and robotcs.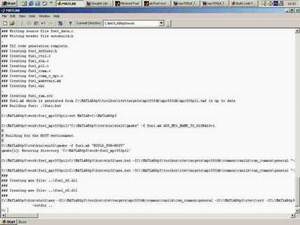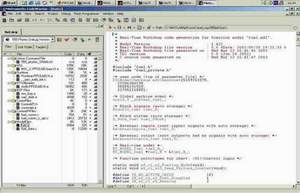 Screen of Matlab Real Time Workshop building in progress....


Fault-tolerant fuel controller algorithm compiled in CodeWarrior GUI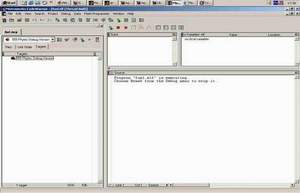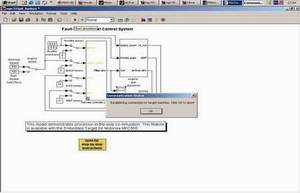 Fuel controller program downloaded do Phytec board!

Matlab is establishing comm with controller on board...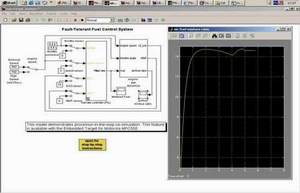 ...And fuel controller simulation (PIL) works :)...


Paper i prepared for IEEE International Conference "EE Education in 21st Century in South-Eastern Europe (+Greece and Turkey)": EMBEDDED SYSTEMS TOOLS IN ROBOTICS LABORATORY.



Mechatronics 2002 Conference - Twente University.
...click to zoom...




Continuous Casting Machine - billet caster - CCM

Step 7 Simatic Manager hardware configuration


Symbol table and software organization


Step 7 STL source code for machine automation


Complete program for water supply system and variable table


Siemens Drive monitor utility for configuration of motor drives


HMI real time on-line trend for liquid level control and OPC server data logging for further system identification and tuning


Motor inverter online testing and fine tuning of parameters


Rockwell Micrologix series PLCs programming in RSLogix software









Mechatronics PowerPC 555 Manipulator Servo OpenGL 68HC11 16F84 Borland Builder C++ RTOS DSP Robotics Motorola Microchip Embedded Systems Real-Time Servis medicinske opreme Servis CNC strojeva Mechatronic Mehatronika CNC mašine CNC strojevi Automatika Automatizacija postrojenja Industrijska elektronika Tokarski stroj CNC stroj CNC Strug CNC glodalica Automatski strug Automatizacija mašina CNC Retrofit Allen Bradley Fanuc Siemens Mitsubishi Servis CNC mašina CNC mašine Frekventni regulatori mašine za graviranje digitalizacija modernizacija održavanje Automatizacija pogona PLC software WinCC Step7 Wonderware factory suite RSLogix HMI Scada Instrumentacija CNC Strug Glodalica Automatski Obradni centar Automatizirati Modernizacija ABB Siemens PLC S-200 S-300 S-400 STEP 7 Simatic PCS7 Simovert Simodrive WinCC Masterdrive Microdrive Allen Bradley Micrologix Wonderware InTouch Factorysuite RSView SCADA GE Fanuc Servo Servis CNC mašina Automatizacija tehnoloških procesa automatizacija pogona automatizacija strojeva Automatizacija mašina Proizvodnja strojeva automatizacija zgrada automatizacija proizvodnje Step7 MicroWin kurs obuka programiranje Step7 Protool OP Operator panel Sitrans encoder torque meltshop rolling mill caster pickling line automatizacija motornih pogona Profibus Modicon OPC Industrial Ethernet laddle refining furnace automatizacija proizvodnih linija automatizacija transportnih sistema automatizacija vodovoda nadzor vodovoda automatizacija betonara automatizacija pakiranja automatizacija pilana automatizacija postrojenja automatizacija proizvodnje automatizacija pogona servo pogoni sistemi za upravljanje i nadzor automatizacija u industriji automation solutions industrijska rjesenja automation solutions Systems Integrators Offering Commissioning and Start-up Services consulting services in industrial automation rjesenja za automatizaciju maschine automatisierung Automatisierungstechnik Verpackungsmaschine walzwerk automatisierung ofen automatisierung steuerung regelung mechatronischer industriell systeme Die Firma ist in der Automatisierung, Software Entwicklung, Regelungstechnik, Visualisierung und Netzwerktechnik Automatisierung Ingenieurserviceleistungen rund um die Automation bevorzugte Automatisierungssysteme SIMATIC und Rockwell Industrie- Automation Automatisierungstechnik Als Spezialteam für Steuerungs- und Automatisierungstechnik unterstützt man bei der Projektierung und Planung von Industrieausrüstungen Know-how beim Fernwirken, Messen, Steuern, Regeln und Automatisieren Frequenzumrichter Visualisierung SPS Programmerstellung Maschinen Anlagen Automatisierungssyteme Betonmischanlage automatische Beratung Projektierung Realisierung Fehleranalyse Inbetriebnahme Fernwartungssysteme Ingenieurbüro comissioning automazione danieli billet caster slab caster EAF electric arc furnace Endüstriyel otomasyon Endustriyel otomasyon L'automazione dei sistemi industriali Siderurgia Petrolchimica Food & Beverage Automation Engineering specializzato per la supervisione e assistenza tecnica al montaggio, il commissioning, l'avviamento e la manutenzione di impianti industriali in ogni parte del mondo. supervisori strumentali per loop-check commisioning e start-up strumentazione automatisme industrielle instrumentation algier





© Čizmedžić